Regardless of the lack of inventory on the market, the U.S. homeownership rate has climbed to a 6-year high. The United States Census Bureau reported that it increased to 65.1% in the fourth quarter of 2019, representing the highest level in the past six years. See the graph below: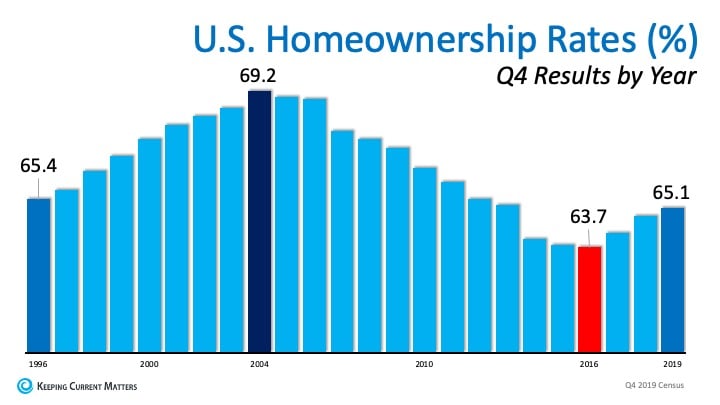 More InfoThis increase does not come as a surprise. According to realtor.comMore Info,
"The largest cohort of the millennial generation turns 30-years-old in 2020 and they are hitting the housing market in full force. At the end of the fourth quarter of 2019, millennials made up the largest generational segment of homebuyers, growing their share of home purchase mortgages to 48 percent."
With so many Millennials entering a homebuying phase of life and getting into the market, the Millennial ReportMore Info also explains,
"Homeownership is an even bigger goal for younger generations. Of those with savings, 41 percent of Gen Z and 40 percent of younger millennials are saving to buy a home."
Today's low interest rates are providing a break to new homeowners too, regardless of generation, making homeownership more desirable and achievable at the same time. Freddie MacMore Info explains,
"The combination of very low mortgage rates, a strong economy and more positive financial market sentiment all point to home purchase demand continuing to rise over the next few months."
The increase in homeownership rate was also represented by race and ethnicity of the householders. HousingWireMore Info explains,
"The homeownership rate for black Americans in 2019's fourth quarter rose to 44%, a seven-year high, increasing from the record low it reached in 2019's second quarter. The rate for Hispanic Americans was 48.1%, a two-year high, the Census data showed…The rate for white Americans was 73.7%, an eight-year high."
See the graph below: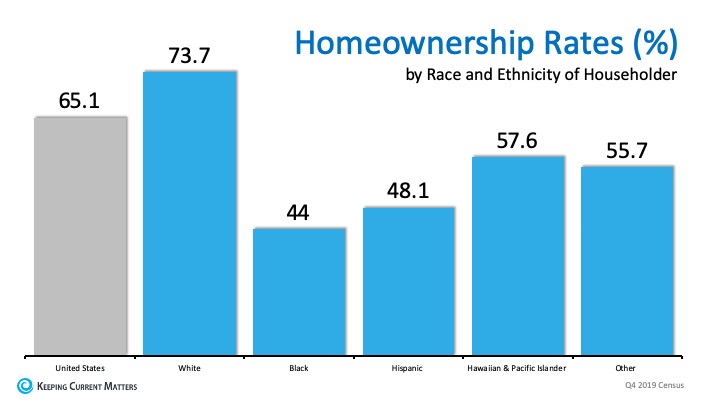 More Info
Bottom Line
If you're considering buying a home this year, reach out to a local real estate professional to set a plan that will help you get one step closer to achieving your dream.
Courtesy of: Keeping Current Matters ( https://www.keepingcurrentmatters.com/2020/02/11/homeownership-rate-on-the-rise-to-a-6-year-high/ )